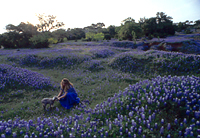 bluebonnet meadow, Hill Country, Texas
A carpet of wildflowers, photographed just after sunrise, delineate the contours and textures of this sheep pasture and illustrate the fragrant delights of a southern spring.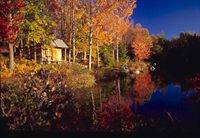 lakefront cabin, Goshen, Vermont
The autumnal splendor of a deciduous woodland blazes with orange phosphorescence. Locating sugar maples will introduce fire-engine reds that are further enhanced by the deep blues of a clear late afternoon sky.