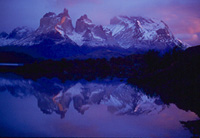 mountains of Torres del Paine, Patagonia, Chile
Alpenglow on majestic peaks brush a lavender streak across the summits and must be anticipated as dawn breaks.  Exposures should be taken for the brighter highlights to best capture the delicate atmospheric colors.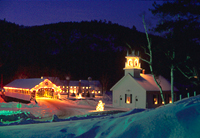 village, Stark, New Hampshire
The magical blue light that occurs near the end of dusk provides a golden glow when photographed with a slow shutter speed and in concert with the manmade electrical lighting seen throughout this cozy New England hamlet.