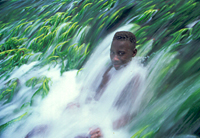 waterfall, Kumalu, Surinam
The dreamy emerald streaks of this watery setting is the result of using a polarizing filter.  Polarizers do not add or alter the naturally visible colors, but rather dramatically eliminate the ambient glare of the water surface and thus reveal aquatic plants anchored to the cascade's bottom.  A slow shutter speed lends a milky sweep to the water currents.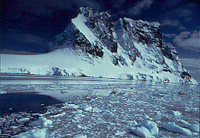 ice floes, Lemaire Channel, Antarctica
Floating fields of cracked ice etched in sharp relief and distinctly cottony cloud puffs that mimic the floes are both made more distinct with the use of a polarizer.  When using a wide 20mm  lens to portray a vast landscape sweep, the image is always made more effective by including nearby elements that lead the eye toward more distant stretches.